Amanda Whereat
Associate Editor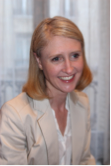 Amy Whereat BSc (UNSW), MM (MGSM), Australia is Consultant Director, Speak the Speech Consulting, which is a micro-network of medical writers specialised in publication writing and health communication.  Previously, she enjoyed a successful career within the pharmaceutical industry in clinical research, medical affairs and marketing at both a local and international level. In these roles, Amy developed a keen interest in scientific storytelling and gained extensive knowledge in clinical research in the fields of  oncology, gastroenterology, cardiology, and dermatology. In recent years, she has been running medical communication and publication writing courses for medical researchers in France. Amy is based in Paris, France and has been an active member of EMWA since 2011.
amy.whereat@speakthespeech.fr
Contributions
The reach and impact of social media have made this communication channel the latest in a number of multidimensional communi - cation tools to be employed in health research. Social media has become a com - muni cation tool to reach various…
As patients are increasingly involved in healthcare decisions, there is a growing need for them to have access to appropriate health information. Medical writers, being a link between medical research and published data, are well placed to make…

Visit the EMWA website
Search
Member Login
Links
Scope
Medical Writing is a quarterly publication that aims to educate and inform medical writers in Europe and beyond. Each issue focuses on a specific theme, and all issues include feature articles and regular columns on topics relevant to the practice of medical writing. We welcome articles providing practical advice to medical writers; guidelines and reviews/summaries/updates of guidelines published elsewhere; original research; opinion pieces; interviews; and review articles.
Medical Writing is listed in the following indexes:
Editoral Board
Editor-in-Chief
Co-Editors
Managing Editor
Victoria White

Associate Editors
Section Editors
Biotechnology
Digital Communication
EMWA News 
Gained in Translation
Getting Your Foot in the Door
Good Writing Practice
In the Bookstores
Manuscript Writing
Medical Communications/Writing for Patients
Medical Devices
My First Medical Writing
News from the EMA
Out on Our Own
Pharmacovigilance
Regulatory Matters
Regulatory Public Disclosure
Teaching Medical Writing
The Crofter: Sustainable Communications
Veterinary Writing
Editors Emeritus
Lay out Designer
Chris Monk