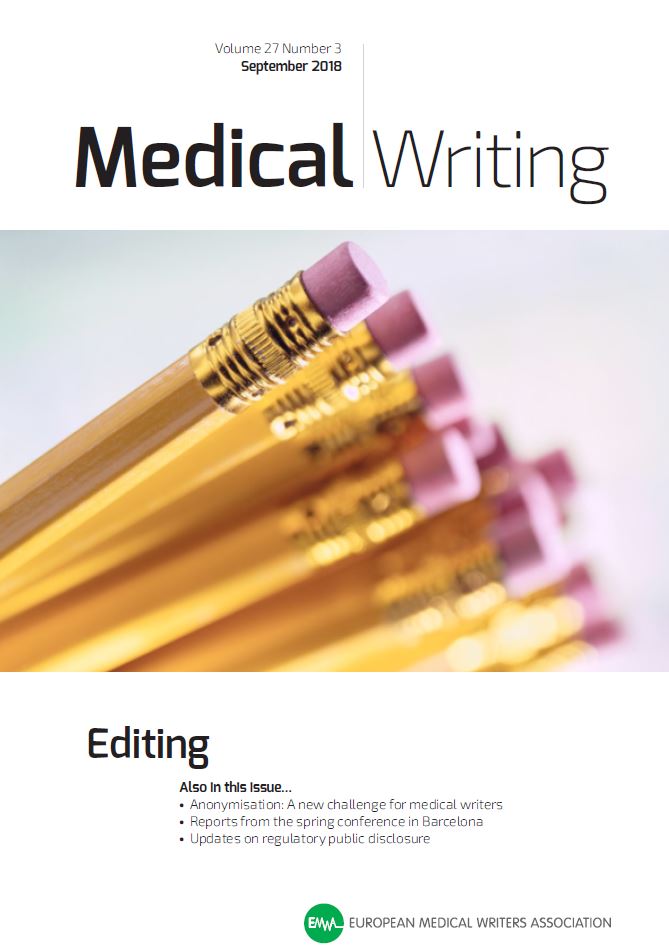 Volume 27, Issue 3 - Editing
Regulatory Public Disclosure
Abstract
Welcome to Medical Writing's first regular section on regulatory public disclosure (RPD). In this fast-evolving area, individuals can feel it's almost impossible to keep up with developments.
Download Full Article
You must be a member of EMWA in order to download the full article.
EMWA members please log in to download the full article.
If you would like to become a member of EMWA, please join here.
References
Cuadrado Lafoz M, Ramírez-Soriano A, Richardson S.Anonymisation: A new challenge for medical writers. Med Writ. 2018;27(3):31–6.
Billiones R. Anonymisation reports from 2016 to 2017: A preliminary analysis. Med Writ. 2018;27(2):22–6

Visit the EMWA website
Search
Articles
Editing
President's Message
EMWA News
Honing your proofreading skills
How clear is the story?
Editing for writers who have English as an additional language
Microediting – details matter Quality, authority, and reputation: The value of microediting
Revision: Parameters and practices within the translation industry
How to soften the red pen's blow: Tips for editing a colleague's work
Go certified – get ready for the BELS exam
Anonymisation: A new challenge for medical writers
Reports from the spring conference in Barcelona: 6th EMWA Symposium
Reports from the spring conference in Barcelona: EMWA social events programme
Reports from the spring EMWA conference. Expert seminar: Use of clinical study reports for Cochrane Reviews
News from the EMA
Profile: An interview with Richard Wheeler
Journal Watch
Medical Devices
In the Bookstores
Lingua Franca and Beyond
Regulatory Public Disclosure
Regulatory Matters
Medical Communication
Good Writing Practice
Manuscript Writing
Getting Your Foot in the Door
My First Medical Writing
Out on Our Own
Upcoming issues of Medical Writing
Member Login
Links
Editoral Board
Editor-in-Chief
Co-Editors
Managing Editor
Victoria White

Deputy Managing Editor
Alicia Waltman
Associate Editors
Section Editors
Biotechnology
Digital Communication
EMWA News       
Gained in Translation
Getting Your Foot in the Door
Good Writing Practice
Alison McIntosh / Stephen Gilliver
In the Bookstores
Manuscript Writing
Medical Communications/Writing for Patients
Medical Devices
My First Medical Writing
News from the EMA
Out on Our Own
Pharmacovigilance
Regulatory Matters
Regulatory Public Disclosure
Teaching Medical Writing
The Crofter: Sustainable Communications
Jennifer Bell / Louisa Marcombes
Veterinary Writing
Editors Emeritus
Lay out Designer
Chris Monk