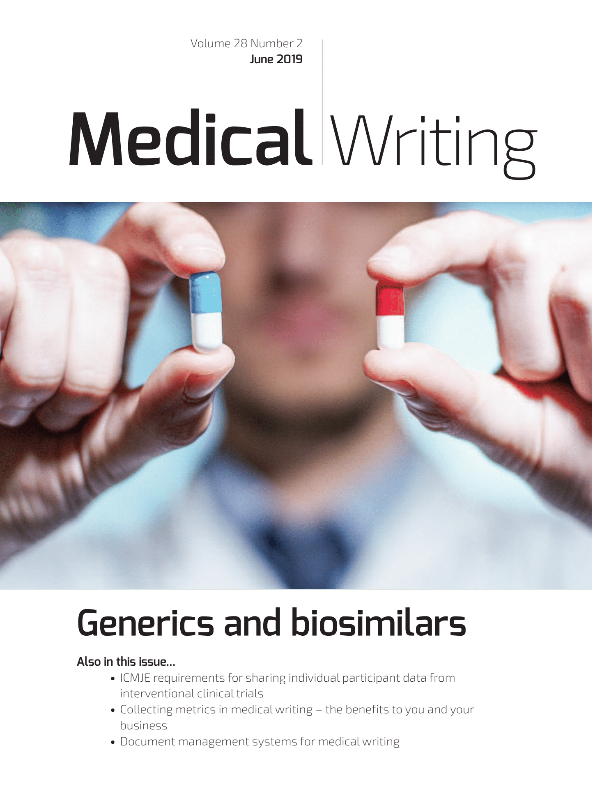 Volume 28, Issue 2 - Generics and biosimilars
Journal Watch
Abstract
Journal Watch is based on the French language blog, Rédaction Médicale et Scientifique, by Hervé Maisonneuve, available at www.redactionmedicale.fr.
Download Full Article
You must be a member of EMWA in order to download the full article.
EMWA members please log in to download the full article.
If you would like to become a member of EMWA, please join here.
References
Freeling B, Doubleday ZA, Connell SD. How can we boost the impact of publications? Try better writing. PNAS. 2019;116(2):341 43.
Amrhein V, Greenland S, McShane B. Scientists rise up against statistical significance. Nature. 2019;567:305 7.
Ioannidis JPA. The importance of predefined rules and prespecified statistical analyses: Do not abandon significance. JAMA Published online April 4, 2019. doi:10.1001/jama.2019.4582
Broderick NA, Casadevall A. Gender inequalities among authors who contributed equally. eLife 2019;8:e36399.
Fox CW, Paine CET. Gender differences in peer review outcomes and manuscript impact at six journals of ecology and evolution. Ecol Evol. 2019;00:1–21.
Wickman C, Fitzgerald E. Writing and science: An editorial perspective. Written Communication. 2019, Vol. 36(1) 3–8.

Visit the EMWA website
Search
Articles
Introduction
James Visanji Tribute
President's Message
EMWA News
Regulatory pathways for development and submission activities
Biosimilar development – an overview
Statistical principles in biosimilar development
Writing biosimilar clinical study reports and submission documents – what to expect and what to consider
Medical writing for generics throughout the life cycle
Same but different: Basic tools for biosimilar and generic pharmacovigilance writing
Layperson materials in the sphere of biosimilars and generic medicines
Insulin biosimilars
Biosimilars: Change, challenge, and accomplishments
ICMJE requirements for sharing individual participant data from interventional clinical trials
Medicinal products and medical devices in clinical trials conduct and disclosure
Publication of clinical trial protocols and statistical analysis plans on ClinicalTrials.gov
Collecting metrics in medical writing – the benefits to you and your business
Document management systems for medical writing
Winner of the Geoff Hall Scholarship Essay Competition
Regulatory Matters
News from the EMA
Getting Your Foot in the Door
Veterinary Medical Writing
Teaching Medical Writing
Medical Devices
My First Medical Writing
Journal Watch
Good Writing Practice
Regulatory Public Disclosure
Out on Our Own
Member Login
Links
Editoral Board
Editor-in-Chief
Co-Editors
Managing Editor
Victoria White

Deputy Managing Editor
Alicia Waltman
Associate Editors
Section Editors
Digital Communication
EMWA News       
Gained in Translation
Getting Your Foot in the Door
Good Writing Practice
Alison McIntosh / Stephen Gilliver
In the Bookstores
Manuscript Writing
Medical Communications/Writing for Patients
Medical Devices
My First Medical Writing
News from the EMA
Out on Our Own
Pharmacovigilance
Regulatory Matters
Regulatory Public Disclosure
Teaching Medical Writing
The Crofter: Sustainable Communications
Jennifer Bell / Louisa Marcombes
Veterinary Writing
Editors Emeritus
Lay out Designer
Chris Monk