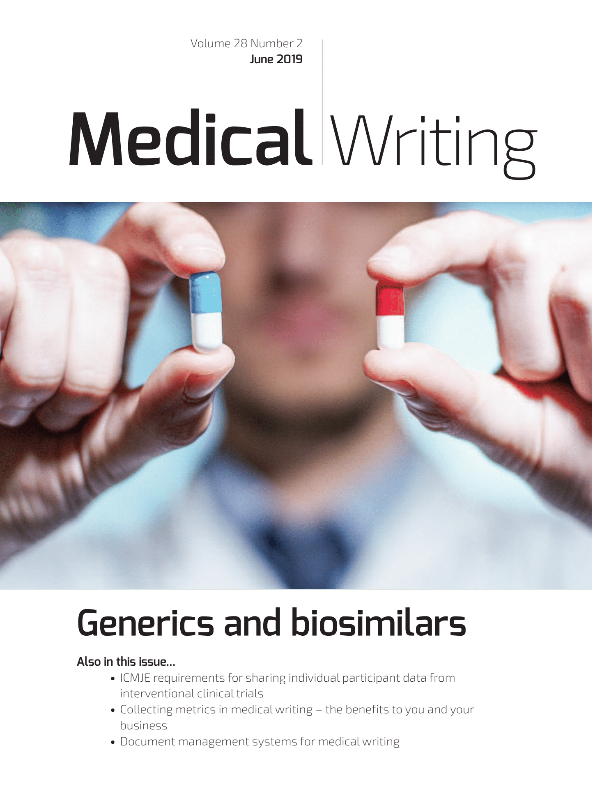 Volume 28, Issue 2 - Generics and biosimilars
Teaching Medical Writing
Download Full Article
You must be a member of EMWA in order to download the full article.
EMWA members please log in to download the full article.
If you would like to become a member of EMWA, please join here.
References
Madani A. Universities should offer medical writing courses at the undergraduate level. Medical Writing. 2017;26:68–9.
Gottlieb M, Lotfipour S, Murphy L, Kraus CK, Langabeer JR 2nd, Langdorf MI. Scholarship in emergency medicine: A primer for junior academics, Part I: Writing and publishing. West J Emerg Med. 2018;19(6):996–1002.
SCImago, (n.d.). SJR – SCImago Journal & Country Rank [Portal]. [cited 2019 March 27]. Available from Available from: http://www.scimagojr.com.
JANE - Journal/Author Name Estimator. [cited 2019 April 23]. Available at: Available from: http://jane.biosemantics.org.
Iskander JK, Wolicki SB, Leeb RT, Siegel PZ. Successful scientific writing and publishing: A step-by-step approach. Prev Chronic Dis. 2018;15:E79.
Peterson TC, Kleppner SR, Botham CM. Ten simple rules for scientists: Improving your writing productivity. PLoS Comput Biol. 2018;14(10):e1006379.
Duncanson K, Webster EL, Schmidt DD. Impact of a remotely delivered, writing for publication program on publication outcomes of novice researchers. Rural Remote Health. 2018;18(2):4468.
Sahoo S, Mohammed CA. Fostering critical thinking and collaborative learning skills among medical students through a research protocol writing activity in the curriculum. Korean J Med Educ. 2018;30(2):109–118.
Ruscetti T, Krueger K, Sabatier C. Improving quantitative writing one sentence at a time. PLoS One. 2018;13(9):e0203109.

Visit the EMWA website
Search
Articles
Introduction
James Visanji Tribute
President's Message
EMWA News
Regulatory pathways for development and submission activities
Biosimilar development – an overview
Statistical principles in biosimilar development
Writing biosimilar clinical study reports and submission documents – what to expect and what to consider
Medical writing for generics throughout the life cycle
Same but different: Basic tools for biosimilar and generic pharmacovigilance writing
Layperson materials in the sphere of biosimilars and generic medicines
Insulin biosimilars
Biosimilars: Change, challenge, and accomplishments
ICMJE requirements for sharing individual participant data from interventional clinical trials
Medicinal products and medical devices in clinical trials conduct and disclosure
Publication of clinical trial protocols and statistical analysis plans on ClinicalTrials.gov
Collecting metrics in medical writing – the benefits to you and your business
Document management systems for medical writing
Winner of the Geoff Hall Scholarship Essay Competition
Regulatory Matters
News from the EMA
Getting Your Foot in the Door
Veterinary Medical Writing
Teaching Medical Writing
Medical Devices
My First Medical Writing
Journal Watch
Good Writing Practice
Regulatory Public Disclosure
Out on Our Own
Member Login
Links
Editoral Board
Editor-in-Chief
Co-Editors
Managing Editor
Victoria White

Deputy Managing Editor
Alicia Waltman
Associate Editors
Section Editors
Digital Communication
EMWA News       
Gained in Translation
Getting Your Foot in the Door
Good Writing Practice
Alison McIntosh / Stephen Gilliver
In the Bookstores
Manuscript Writing
Medical Communications/Writing for Patients
Medical Devices
My First Medical Writing
News from the EMA
Out on Our Own
Pharmacovigilance
Regulatory Matters
Regulatory Public Disclosure
Teaching Medical Writing
The Crofter: Sustainable Communications
Jennifer Bell / Louisa Marcombes
Veterinary Writing
Editors Emeritus
Lay out Designer
Chris Monk