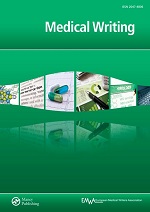 Volume 22, Issue 4 - Good Pharma
Manuscript Writing
Abstract
New medical writers and medical writing students are often unsure how to start writing a manuscript and need help organising their thoughts. How to link the sections and information within them is what I call 'manuscript flow'. This article is the second in a series on the flow of information in a manuscript.
Download Full Article
You must be a member of EMWA in order to download the full article.
EMWA members please log in to download the full article.
If you would like to become a member of EMWA, please join here.
References
Leventhal PS. A guideline for manuscript flow. Part 1 – The introduction. Med Writing 2013;22(1):59–60.
Leventhal PS. What are the most common reasons for a manuscript to be rejected (and how can they be avoided)? Med Writing 2012;21(1):66–8.
Leventhal PS. Guidelines for manuscript writing: here to help. Med Writing 2012;21(2):164–8.