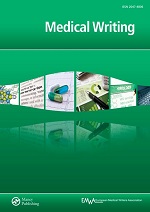 Volume 22, Issue 4 - Good Pharma
Manuscript Writing
Abstract
New medical writers and medical writing students are often unsure how to start writing a manuscript and need help organising their thoughts. How to link the sections and information within them is what I call 'manuscript flow'. This article is the second in a series on the flow of information in a manuscript.
Download Full Article
You must be a member of EMWA in order to download the full article.
EMWA members please log in to download the full article.
If you would like to become a member of EMWA, please join here.
References
Leventhal PS. A guideline for manuscript flow. Part 1 – The introduction. Med Writing 2013;22(1):59–60.
Leventhal PS. What are the most common reasons for a manuscript to be rejected (and how can they be avoided)? Med Writing 2012;21(1):66–8.
Leventhal PS. Guidelines for manuscript writing: here to help. Med Writing 2012;21(2):164–8.

Visit the EMWA website
Search
Articles
Good pharma
Message from the President
Transparency and the healthcare industry: The Sun is shining
Sunshine spreading across the Atlantic and over Europe
Bad karma
If a misinformed voice speaks out in the wilderness and no one refutes it, does it make a sound? A call to advocacy
The Big Pharma conspiracy theory
Editorial: Pharmaism
Legal remedies for medical ghostwriting: Imposing fraud liability on guest authors of ghostwritten articles
A decade of change: A new ISMPP has arrived
Selling evidence over the counter: Do community pharmacists engage with evidence-based medicine?
Good regulatory practice and the role(s) of a regulatory affairs professional
Profile: An interview with Dr Gustavo A. Silva on the concept of public health in medical writing and translation
AuthorAID: An international service and chance to serve
India as a hub for ethical and evidence-based medical communications
Providing value for medicines in older people
In the Bookstores
Journal Watch
The Webscout
Regulatory Writing
Medical Communications
Manuscript Writing
Out On Our Own
Erratum
The Light Stuff
Member Login
Links
Editoral Board
Editor-in-Chief
Co-Editors
Managing Editor
Victoria White

Deputy Managing Editor
Alicia Waltman
Associate Editors
Section Editors
Digital Communication
EMWA News       
Gained in Translation
Getting Your Foot in the Door
Good Writing Practice
Alison McIntosh / Stephen Gilliver
In the Bookstores
Manuscript Writing
Medical Communications/Writing for Patients
Medical Devices
My First Medical Writing
News from the EMA
Out on Our Own
Pharmacovigilance
Regulatory Matters
Regulatory Public Disclosure
Teaching Medical Writing
The Crofter: Sustainable Communications
Jennifer Bell / Louisa Marcombes
Veterinary Writing
Editors Emeritus
Lay out Designer
Chris Monk