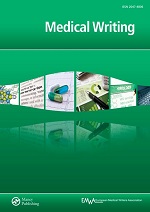 Volume 22, Issue 3 - Health Economics and Market Access
The Webscout
Abstract
Public health funding constitutes a big part of European social systems' expenditures. Governments and health insurance companies are thus interested in reducing spending. Applying pricing initiatives to innovative products confronts pharmaceutical companies with problems in the context of new product launches.
Download Full Article
You must be a member of EMWA in order to download the full article.
EMWA members please log in to download the full article.
If you would like to become a member of EMWA, please join here.
References
Eichele K. The Webscout. Write Stuff 2011;1(20):52.