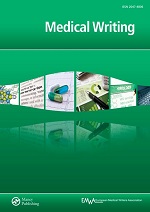 Volume 22, Issue 3 - Health Economics and Market Access
The Webscout
Abstract
Public health funding constitutes a big part of European social systems' expenditures. Governments and health insurance companies are thus interested in reducing spending. Applying pricing initiatives to innovative products confronts pharmaceutical companies with problems in the context of new product launches.
Download Full Article
You must be a member of EMWA in order to download the full article.
EMWA members please log in to download the full article.
If you would like to become a member of EMWA, please join here.
References
Eichele K. The Webscout. Write Stuff 2011;1(20):52.

Visit the EMWA website
Search
Articles
Message from the President
Thirty-seventh EMWA Conference, 7–9 November 2013, Barcelona, Spain
Announcing the Geoff Hall Memorial Scholarships
Health economists and medical writers: Collaboration or collision?
Early benefit assessment of new drugs in Germany: Framework for submission of dossiers by pharmaceutical companies
NICE guidance on health technologies and the role of editors
European network for health technology assessment – EUnetHTA
Guest Editorial: Medical writing and health economics/market access: A health economist's view
Results of the 2012 EMWA salary survey
Successful document collaboration in a virtual team
Profile: An interview with Blanca Mayor Serrano on the state-of-the-art of health literacy in Spain
What can twitter do for me?
In the Bookstores
Journal Watch
The Webscout
Regulatory Writing Developments in paediatric regulation
English Grammar and Style
Medical Journalism
Medical Communications
Manuscript Writing
Out On Our Own
The Light Stuff
Member Login
Links
Editoral Board
Editor-in-Chief
Co-Editors
Managing Editor
Victoria White

Deputy Managing Editor
Alicia Waltman
Associate Editors
Section Editors
Digital Communication
EMWA News       
Gained in Translation
Getting Your Foot in the Door
Good Writing Practice
Alison McIntosh / Stephen Gilliver
In the Bookstores
Manuscript Writing
Medical Communications/Writing for Patients
Medical Devices
My First Medical Writing
News from the EMA
Out on Our Own
Pharmacovigilance
Regulatory Matters
Regulatory Public Disclosure
Teaching Medical Writing
The Crofter: Sustainable Communications
Jennifer Bell / Louisa Marcombes
Veterinary Writing
Editors Emeritus
Lay out Designer
Chris Monk