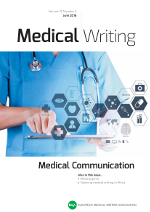 Volume 25, Issue 2 - Medical Communication
In the Bookstores
Download Full Article
You must be a member of EMWA in order to download the full article.
EMWA members please log in to download the full article.
If you would like to become a member of EMWA, please join here.
References
Battisti WP, Wager E, Balzer L, Bridges D, Cairns A, Carswell CI, et al. Good public - ation practice for communicating companysponsored medical research: GPP3. Ann Intern Med. 2015;163(6):461–1.
International Committee of Medical Journal Editors. Recommendations for the Conduct, Reporting, Editing, and Publication of Scholarly Work in Medical Journals. 2015 [cited 2016 Mar 14]. Available from: http://www.icmje.org/recommendations/

Visit the EMWA website
Search
Articles
Medical communication writers: Who are they and what do they do?
EMWA News
President's Message
Suggested reading in recent issues of European Science Editing
Medical affairs writing: A key role to relay medical information to everyone
Top ten questions about careers in MedComms
Staying ahead of the game in the changing arena of ethical medical communications - Viewpoint of a freelance medical writer
A PhD and medical writing: A good match
Writing for pharmaceutical or medical device companies: A survey of entry requirements, career paths, quality of life, and personal observations
Medical Gems
The request for proposal process: A brief overview for trainee medical writers
Winners of the Geoff Hall Scholarship Essay Competition
Abstracts from the EMWA Spring Conference Poster Session
News from the EMA
Journal Watch
In the Bookstores
The Webscout
Regulatory Matters
Lingua Franca and Beyond
Gained in Translation
Medical Writing Teaching
Profile - An Interview with Juliane Chaccour - Writing in Mozambique
Letter to the Editor
Out On Our Own
Member Login
Links
Editoral Board
Editor-in-Chief
Co-Editors
Managing Editor
Victoria White

Deputy Managing Editor
Alicia Waltman
Associate Editors
Section Editors
Digital Communication
EMWA News       
Gained in Translation
Getting Your Foot in the Door
Good Writing Practice
Alison McIntosh / Stephen Gilliver
In the Bookstores
Manuscript Writing
Medical Communications/Writing for Patients
Medical Devices
My First Medical Writing
News from the EMA
Out on Our Own
Pharmacovigilance
Regulatory Matters
Regulatory Public Disclosure
Teaching Medical Writing
The Crofter: Sustainable Communications
Jennifer Bell / Louisa Marcombes
Veterinary Writing
Editors Emeritus
Lay out Designer
Chris Monk