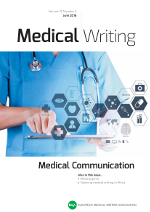 Volume 25, Issue 2 - Medical Communication
Journal Watch
Abstract
Journal Watch is based on the French-language blog Rédaction Médicale et Scientifique, available at http://www.redactionmedicale.fr.

Download the full article
References
Benchimol EI, Smeeth L, Guttmann A, Harron K, Moher D, Petersen I, et al. The REporting of studies Conducted using Observational Routinely collected health Data (RECORD) Statement. PLoS Med 12(10): e1001885.
Tricco AC, Lillie E, Zarin W, O'Brien K, Colquhoun H, Kastner M, et al. A scoping review on the conduct and reporting of scoping reviews. BMC Med Res Methodol. 2016;16:15
Barbour V, Burch D, Godlee F, Heneghan C, Lehman R, Perera R, et al. Characterisation of trials where marketing purposes have been influential in study design: a descriptive study. Trials. 2016;17:31.
Chen R, Desai NR, Ross JS, Zhang W, Chau KH, Wayda B, et al. Publication and reporting of clinical trial results: cross sectional analysis across academic medical centres. BMJ. 2016;352:i637.
Wang MTM, Bolland MJ, Gamble G, Grey A. Media coverage, journal press releases and editorials associated with randomized and observational studies in high-impact medical journals: a cohort study. PLoS One 2015;10(12):e0145294
Horton R. Offline: What is medicine's 5 sigma? Lancet. 385(9976):1380
Reproducibility and reliability of biomedical research: improving research practice. Symposium report: 2015 [cited 2016 Mar 7]. Available from: http://www.acmedsci.ac.uk/ policy/policy-projects/reproducibility -and-reliability-of-biomedicalresearch/

Visit the EMWA website
Search
Articles
Medical communication writers: Who are they and what do they do?
EMWA News
President's Message
Suggested reading in recent issues of European Science Editing
Medical affairs writing: A key role to relay medical information to everyone
Top ten questions about careers in MedComms
Staying ahead of the game in the changing arena of ethical medical communications - Viewpoint of a freelance medical writer
A PhD and medical writing: A good match
Writing for pharmaceutical or medical device companies: A survey of entry requirements, career paths, quality of life, and personal observations
Medical Gems
The request for proposal process: A brief overview for trainee medical writers
Winners of the Geoff Hall Scholarship Essay Competition
Abstracts from the EMWA Spring Conference Poster Session
News from the EMA
Journal Watch
In the Bookstores
The Webscout
Regulatory Matters
Lingua Franca and Beyond
Gained in Translation
Medical Writing Teaching
Profile - An Interview with Juliane Chaccour - Writing in Mozambique
Letter to the Editor
Out On Our Own
Member Login
Links
Editoral Board
Editor-in-Chief
Co-Editors
Managing Editor
Victoria White

Associate Editors
Section Editors
Biotechnology
Digital Communication
EMWA News 
Gained in Translation
Getting Your Foot in the Door
Good Writing Practice
In the Bookstores
Manuscript Writing
Medical Communications/Writing for Patients
Medical Devices
My First Medical Writing
News from the EMA
Out on Our Own
Pharmacovigilance
Regulatory Matters
Regulatory Public Disclosure
Teaching Medical Writing
The Crofter: Sustainable Communications
Veterinary Writing
Editors Emeritus
Lay out Designer
Chris Monk