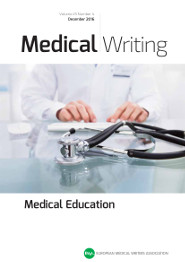 Volume 25, Issue 4 - Medical Education
Journal Watch
Abstract
Journal Watch is based on the French-language blog Rédaction Médicale et Scientifique, by Hervé Maisonneuve available at http://www.redactionmedicale.fr.

Download the full article
References
Baker M. 1,500 scientists lift the lid on reproducibility. Nature 2016;533:452-4. Go forth and relicate [editorial]. Nature 2016;536:373.2016;536:373.
Mooney LA, Fay L. Crosssectional study of Pfizer-sponsored clinical trials: assessment of time to publication and publication history. BMJ Open 2016;6:e012362. doi:10.1136/bmjopen- 2016-012362
Chawla DS. Despite apology, bagpipes study not slated for retraction. 2016 [cited 9 Oct 2016]. Available from: http://retractionwatch.com/2016/09/07/despite-apology-bagpipes-study-not-slatedfor-retraction/
Ioannidis JPA. The mass production of redundant, misleading and conflicted systematic reviews and metaanalysis. Milbank Q 2016;94:485-514.
Heidari S, Babor TF, De Castro P, Tort S, Curno M. Sex and Gender Equity in Research: rationale for the SAGER guidelines and recommended use. Res Integrity Peer Rev (2016) 1:2.
Schroll JB, Penninga E, Gøtzsche P. Assessment of adverse events in protocols, clinical study reports, and published papers of trials of orlistat: a document analysis. PLOS Med 2016;13(8):e1002101.

Visit the EMWA website
Search
Articles
Medical Education
President's Message
EMWA News
Writing for mixed-media training programmes
Lessons from building an accredited medical conference: Design and delivery
Medical education in a medcomms agency
Patient education in clinical trials and throughout the product lifecycle
Writing, publishing, and disseminating a medical review
CME in the Deutsches Ärzteblatt and the development of multiple choice questions for medical educational purposes
Covering a medical advisory board meeting and creating the report or publication: The role of the professional medical writer
Peer review fraud
News from the EMA
Journal Watch
In The Bookstores
The Webscout
Good Writing Practice
Medical Communications
Getting Your Foot in the Door
Profile: An Interview with the organisers of the first Internship Forum
Out on Our Own
Member Login
Links
Editoral Board
Editor-in-Chief
Co-Editors
Managing Editor
Victoria White

Associate Editors
Section Editors
Digital Communication
EMWA News 
Gained in Translation
Getting Your Foot in the Door
Good Writing Practice
In the Bookstores
Manuscript Writing
Medical Communications/Writing for Patients
Medical Devices
My First Medical Writing
News from the EMA
Out on Our Own
Pharmacovigilance
Regulatory Matters
Regulatory Public Disclosure
Teaching Medical Writing
The Crofter: Sustainable Communications
Veterinary Writing
Editors Emeritus
Lay out Designer
Chris Monk