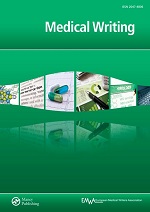 Volume 22, Issue 1 - Medical Writing Education
Out On Our Own
Abstract
The fourth EMWA freelance business survey
This fourth survey follows those conducted in 2003, 2007, and 2010.1–3 The first survey was conducted with a paper questionnaire distributed to both freelancers and small businesses with up to seven employees at the Freelance Forum during the EMWA conference in Lisbon in 2003. In 2007, the survey was conducted in electronic form and addressed to only freelancers, or those engaging in freelance activities in Europe. These practices continued for the 2010 and 2012 surveys. Response had grown steadily over the administrations from 63 respondents in 2003 to 101 in 2007 and 130 in 2010.
Download Full Article
You must be a member of EMWA in order to download the full article.
EMWA members please log in to download the full article.
If you would like to become a member of EMWA, please join here.
References
Reeves A, Drees B. EMWA freelance and small business survey 2003. TWS 2004;13(1):11–13.
Reeves A, Hamilton S. EMWA freelance business survey 2007. TWS 2007;16(3):138–40.
Reeves A. Third EMWA freelance business survey 2010. TWS 2010;19(2):147–9.
Sikora K, James N. Top-up payments in cancer care. Clin Oncol 2009;21(1):1–5
Anderson C, Kilduff GJ. Why dominant personalities attain influence in face to face groups. J Pers Soc Psychol 2009;96(2):491–503.
Murphy R. English grammar in use. 3rd ed. Cambridge: Cambridge University Press; 2004.
Petty G. Evidence based teaching. 2nd ed. Cheltenham: Nelson Thornes; 2009.
Anholt R. Dazzle them with style: the art of oral presentation. Burlington Massachusetts: Elsevier Academic Press; 2006.
Hall R. Brilliant presentations: what the best presenters know, say and do. Edinburgh: Pearson Education; 2007.
Shirani A, Zhao Y, Karim ME, Evans C, Kingwell E, van der Kop ML, et al. Association between use of interferon beta and progression of disability in patients with relapsing-remitting multiple sclerosis. JAMA 2012;308(3):247–56.
Dolan PL. The latest health care marketing tool: QR codes. Amednews [Internet]. Available from: http://www.ama-assn.org/amednews/2011/10/03/bica1003.htm
Lin CH, Tsai FY, Tsai WL, Wen HW, Hu ML. The feasibility of QR-code prescription in Taiwan. J Clin Pharm Ther 2012;37(6):643–6.
DataGear.com. Code D'Urgence: France develops QR codes that could save lives [Internet] Available from: http://www.datagear.com/blog/2012/code-durgence-france-qr-code.html
Liu C, Shi L, Xu X, Li H, Xing H, Liang D, et al. DNA barcode goes two-dimensions: DNA QR code web server. PLoS One 2012;7(5):e35146.
Donahoo D. Wired: the most beautiful QR code competition [Internet] Available from: http://www.wired.com/geekdad/2012/11/qr-code-comp/
Kirkman J. Good style: writing for science and technology. Abingdon, UK: Routledge; 1997.
Ohri M, Dawes K. Successful abstract writing: an essential skill for medical writers. The Write Stuff 2009;18(1):27–8.

Visit the EMWA website
Search
Articles
Medical writing education
Message from the President
EMWA's position on ghostwriting
Essential modules for teaching publication writers
Combined workshops on medical writing and publication ethics for Japanese postgraduate students and faculty members
Teaching scientific writing to non-native English speakers
A field guide to medical writing training
Teaching scientific writing using the learner-centred approach
On educating the medical writer
Learning and teaching clinical writing
Your professional association: A great way to expand your skills and advance your career
Pleasing the reader by pleasing the eye—Part 2 Page layout and readability
Implications of clinical trial data sharing for medical writers
In the Bookstores
Journal Watch
The Webscout
Manuscript Writing
Regulatory Writing
Medical Journalism
Medical Communication
Out On Our Own
The Light Stuff
Member Login
Links
Editoral Board
Editor-in-Chief
Co-Editors
Managing Editor
Victoria White

Associate Editors
Section Editors
Biotechnology
Digital Communication
EMWA News 
Gained in Translation
Getting Your Foot in the Door
Good Writing Practice
In the Bookstores
Manuscript Writing
Medical Communications/Writing for Patients
Medical Devices
My First Medical Writing
News from the EMA
Out on Our Own
Pharmacovigilance
Regulatory Matters
Regulatory Public Disclosure
Teaching Medical Writing
The Crofter: Sustainable Communications
Veterinary Writing
Editors Emeritus
Lay out Designer
Chris Monk