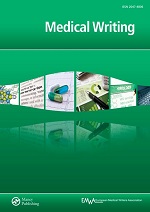 Volume 23, Issue 3 - Non-Clinical Health Writing
News from the EMA
Abstract

The articles included in this section are a selection from the EMA's news and press release archive for March–June 2014. More information on the work of the EMA can be found on its website: http://www.ema.europa.eu.

Visit the EMWA website
Search
Articles
Non-clinical health writing
President's Message
EMWA social media team
Opportunities in veterinary writing
Veterinary regulatory writing in Europe
Exploring veterinary science, a little-known translation specialisation
Cosmetic regulatory writing
REACH chemical dossiers? Yes, please!
Pesticide dossiers, an opportunity for medical writers
Nanoapplications – From geckos to human health
Medical writing for in vitro diagnostics: A different approach for the 'hidden' side of healthcare
Writing bioanalytical reports
Letter to the Editor: Because you're worth it?
Cost comparison of salaried and freelance medical writers working in Europe
Profile: An interview with Fernando Navarro on the brand new platform 'Cosnautas'
Key factors a pharmaceutical company should consider while outsourcing medical writing services
Working with authors to develop high-quality, ethical clinical manuscripts: Guidance for the professional medical writer
News from the EMA
The Webscout
English Grammar and Style - Points of view
Medical Communication
In the Bookstores
Out On Our Own
Erratum
Member Login
Links
Editoral Board
Editor-in-Chief
Co-Editors
Managing Editor
Victoria White

Deputy Managing Editor
Alicia Waltman
Associate Editors
Section Editors
Digital Communication
EMWA News       
Gained in Translation
Getting Your Foot in the Door
Good Writing Practice
Alison McIntosh / Stephen Gilliver
In the Bookstores
Manuscript Writing
Medical Communications/Writing for Patients
Medical Devices
My First Medical Writing
News from the EMA
Out on Our Own
Pharmacovigilance
Regulatory Matters
Regulatory Public Disclosure
Teaching Medical Writing
The Crofter: Sustainable Communications
Jennifer Bell / Louisa Marcombes
Veterinary Writing
Editors Emeritus
Lay out Designer
Chris Monk