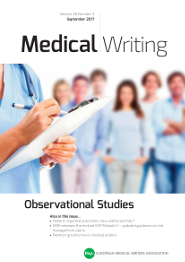 Volume 26, Issue 3 - Observational Studies
EMWA News
Abstract
In this issue, we are bringing to you many updates on different aspects relevant to our medical writing community. Tim Koder from Oxford PharmaGenesis introduces the Open Pharma project, which aims to promote and aid a faster and more transparent publication of medical research. Lillian Sandø, one of the few EMWA members with an ELS suffix, shares her experience with the BELS exam organised for the first time since 1966 in collaboration with the EMWA conference in Birmingham. I personally adhere to her words, and would like to encourage both our editors and writers to take this exam in the future. Also, since our website has been switched to an improved platform, Diarmuid De Faoite tells us all the improvements that this update entails. We urge you to visit the new website if you haven't done it so far. Finally, Amy Whereat shares the news from the medical writers' gettogether this summer in Paris.
Download Full Article
You must be a member of EMWA in order to download the full article.
EMWA members please log in to download the full article.
If you would like to become a member of EMWA, please join here.
References
Duracinsk M, Lalanne C, Rous L, Dara AF, Baudoin L, Pellet C et al. Barriers to publishing in biomedical journals perceived by a sample of French researchers: results of the DIAzePAM study. BMC Med Res Methodol 2017;17:96. DOI: 10.1186/s12874-017-0371-z Available from: http://