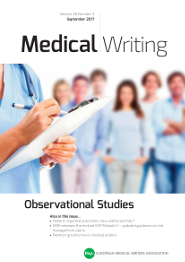 Volume 26, Issue 3 - Observational Studies
Journal Watch
Abstract
Data sharing is encouraged by institutions and journals: Authorship of "shared" papers should be clear

When researchers share data, the teams analysing them want to publish their results. How should authorship of publications be defined? Who are the authors – the researchers who collected and then shared the data and/or those who analysed the data? Conflicts among researchers are frequent when it comes to listing authors. The issue is important to researchers as they seek advance ment, apply for grants, etc. In the New England Journal of Medicine, Bierer et al propose that the persons who contributed to the generation of data should be named "data authors," with their names added to the byline. Data authors are responsible for the integrity of the data set but not responsible for the scientific or clinical conclusions. A manuscript could have distinct data authors and authors whose primary contribution has been to perform data analysis of an existing data set. Five situations have been identified to allocate credit for data sharing and tracing the date set; many questions are not yet answered. Authors and journal editors should try to implement these suggestions and then work to improve the classification.

Download the full article

Visit the EMWA website
Search
Articles
Observations and Observational Studies
President's Message
EMWA News
RCTs: Can the treatment work? Patient registries: Does the treatment work?
Odd cases and risky cohorts: Measures of risk and association in observational studies
Guidance for the design and analysis of observational studies: The STRengthening Analytical Thinking for Observational Studies (STRATOS) initiative
Guidelines for disclosing the results from observational trials
Registration and ethics committee approval for observational studies: Current status and way forward
Regulatory submissions of non-interventional post-authorisation safety studies
Reporting non-interventional post-authorisation safety studies (NI-PASS)
Patient-reported outcomes: How useful are they?
EMA releases the revised Good Pharmacovigilance Practices Module V – updated guidance on risk management plans
Mentoring tomorrow's medical writers
ICMJE to mandate data sharing statements
News from the EMA
Journal Watch
Getting Your Foot in the Door
In the Bookstores
Regulatory Matters
Medical Communications
The Webscout
Teaching Medical Writing
Good Writing Practice
Out on Our Own
Member Login
Links
Editoral Board
Editor-in-Chief
Co-Editors
Managing Editor
Victoria White

Associate Editors
Section Editors
Biotechnology
Digital Communication
EMWA News 
Gained in Translation
Getting Your Foot in the Door
Good Writing Practice
In the Bookstores
Manuscript Writing
Medical Communications/Writing for Patients
Medical Devices
My First Medical Writing
News from the EMA
Out on Our Own
Pharmacovigilance
Regulatory Matters
Regulatory Public Disclosure
Teaching Medical Writing
The Crofter: Sustainable Communications
Veterinary Writing
Editors Emeritus
Lay out Designer
Chris Monk