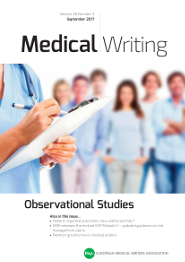 Volume 26, Issue 3 - Observational Studies
Out on Our Own
Abstract
Greetings, readers.

For freelancers, receiving feedback is an important process for building a mutually productive relationship with a client. Positive feedback serves to encourage and helps develop core strengths, while constructive criticism is educational and facilitates identifying weaknesses and areas to work on. Hence, in absence of a 'boss' or "annual appraisals", it is the client's feedback that is crucial for the professional development of a freelancer. But perhaps you will agree with me when I state that accepting negative feedback with equanimity is indeed difficult. In her article, Michelle Guillemard, the President of the Australasian Medical Writers Association and an avid blogger on freelancing issues, presents a few tips on preparing well to avoid unfavourable feedback from the client and handling it effectively if it does happen.
Download Full Article
You must be a member of EMWA in order to download the full article.
EMWA members please log in to download the full article.
If you would like to become a member of EMWA, please join here.
References