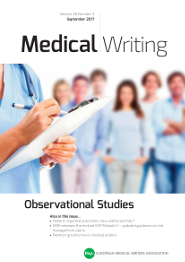 Volume 26, Issue 3 - Observational Studies
Out on Our Own
Abstract
Greetings, readers.

For freelancers, receiving feedback is an important process for building a mutually productive relationship with a client. Positive feedback serves to encourage and helps develop core strengths, while constructive criticism is educational and facilitates identifying weaknesses and areas to work on. Hence, in absence of a 'boss' or "annual appraisals", it is the client's feedback that is crucial for the professional development of a freelancer. But perhaps you will agree with me when I state that accepting negative feedback with equanimity is indeed difficult. In her article, Michelle Guillemard, the President of the Australasian Medical Writers Association and an avid blogger on freelancing issues, presents a few tips on preparing well to avoid unfavourable feedback from the client and handling it effectively if it does happen.
Download Full Article
You must be a member of EMWA in order to download the full article.
EMWA members please log in to download the full article.
If you would like to become a member of EMWA, please join here.
References

Visit the EMWA website
Search
Articles
Observations and Observational Studies
President's Message
EMWA News
RCTs: Can the treatment work? Patient registries: Does the treatment work?
Odd cases and risky cohorts: Measures of risk and association in observational studies
Guidance for the design and analysis of observational studies: The STRengthening Analytical Thinking for Observational Studies (STRATOS) initiative
Guidelines for disclosing the results from observational trials
Registration and ethics committee approval for observational studies: Current status and way forward
Regulatory submissions of non-interventional post-authorisation safety studies
Reporting non-interventional post-authorisation safety studies (NI-PASS)
Patient-reported outcomes: How useful are they?
EMA releases the revised Good Pharmacovigilance Practices Module V – updated guidance on risk management plans
Mentoring tomorrow's medical writers
ICMJE to mandate data sharing statements
News from the EMA
Journal Watch
Getting Your Foot in the Door
In the Bookstores
Regulatory Matters
Medical Communications
The Webscout
Teaching Medical Writing
Good Writing Practice
Out on Our Own
Member Login
Links
Editoral Board
Editor-in-Chief
Co-Editors
Managing Editor
Victoria White

Associate Editors
Section Editors
Biotechnology
Digital Communication
EMWA News 
Gained in Translation
Getting Your Foot in the Door
Good Writing Practice
In the Bookstores
Manuscript Writing
Medical Communications/Writing for Patients
Medical Devices
My First Medical Writing
News from the EMA
Out on Our Own
Pharmacovigilance
Regulatory Matters
Regulatory Public Disclosure
Teaching Medical Writing
The Crofter: Sustainable Communications
Veterinary Writing
Editors Emeritus
Lay out Designer
Chris Monk