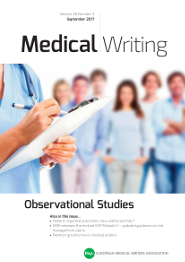 Volume 26, Issue 3 - Observational Studies
Patient-reported outcomes: How useful are they?
Abstract
Patient-reported outcomes (PROs) are any report on the status of a patient's health condition as told by the patient him or herself or through an interview, without any interpretation by a clinician or anyone else. They generate information on those aspects of health, disease, and treatment that are only known to the patient suffering from the condition, and include any assessment of symptoms, functional status, psychological and social well-being, health related quality of life, adherence, persistence, satisfaction, or preferences for healthcare interventions from the perspective of the individual. In clinical research, PROs are endpoints of observational studies and provide data on patients in real life situations. The appropriate selection of PRO and of PRO instruments as well as the accurate interpretation and reporting of PRO results are essential to the reliability of evidence generated. PRO assessment has become a vital component in the design of patient registries, which should serve to improve the provision of healthcare, to inform decision makers, and to gain knowledge on the true effects of treatments on patients in the long term.



Download the full article
References