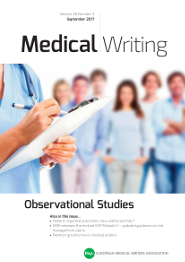 Volume 26, Issue 3 - Observational Studies
RCTs: Can the treatment work? Patient registries: Does the treatment work?
Abstract
The first part of this article compares the main features of studies based on patient registry data with those of randomised clinical trials, providing a basis for better understanding the differences between the two. The second part details how to report study-specific issues with patient registries, such as study objectives, patient populations,
bias, confounders, missing data, study duration, and gives a few tips on how to improve the credibility of papers based on patient registry data.

Download the full article
References