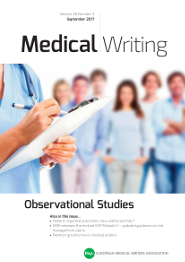 Volume 26, Issue 3 - Observational Studies
Teaching Medical Writing
Abstract
Only one university in the USA offers an undergraduate degree programme in medical writing. Worldwide, fewer than 10 institutions offer advanced degrees (Table 1). Over the past 14 years, I have read and edited many research papers, grant applications, and other materials written by graduate students and established professionals. In many cases, there was significant room for improvement, not only in basic grammar and mechanics, but also in clarity and
appropriate diction for the intended audience.

Download the full article
References

Visit the EMWA website
Search
Articles
Observations and Observational Studies
President's Message
EMWA News
RCTs: Can the treatment work? Patient registries: Does the treatment work?
Odd cases and risky cohorts: Measures of risk and association in observational studies
Guidance for the design and analysis of observational studies: The STRengthening Analytical Thinking for Observational Studies (STRATOS) initiative
Guidelines for disclosing the results from observational trials
Registration and ethics committee approval for observational studies: Current status and way forward
Regulatory submissions of non-interventional post-authorisation safety studies
Reporting non-interventional post-authorisation safety studies (NI-PASS)
Patient-reported outcomes: How useful are they?
EMA releases the revised Good Pharmacovigilance Practices Module V – updated guidance on risk management plans
Mentoring tomorrow's medical writers
ICMJE to mandate data sharing statements
News from the EMA
Journal Watch
Getting Your Foot in the Door
In the Bookstores
Regulatory Matters
Medical Communications
The Webscout
Teaching Medical Writing
Good Writing Practice
Out on Our Own
Member Login
Links
Editoral Board
Editor-in-Chief
Co-Editors
Managing Editor
Victoria White

Associate Editors
Section Editors
Biotechnology
Digital Communication
EMWA News 
Gained in Translation
Getting Your Foot in the Door
Good Writing Practice
In the Bookstores
Manuscript Writing
Medical Communications/Writing for Patients
Medical Devices
My First Medical Writing
News from the EMA
Out on Our Own
Pharmacovigilance
Regulatory Matters
Regulatory Public Disclosure
Teaching Medical Writing
The Crofter: Sustainable Communications
Veterinary Writing
Editors Emeritus
Lay out Designer
Chris Monk