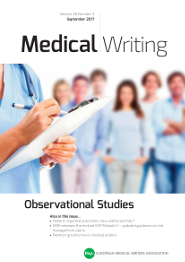 Volume 26, Issue 3 - Observational Studies
Teaching Medical Writing
Abstract
Only one university in the USA offers an undergraduate degree programme in medical writing. Worldwide, fewer than 10 institutions offer advanced degrees (Table 1). Over the past 14 years, I have read and edited many research papers, grant applications, and other materials written by graduate students and established professionals. In many cases, there was significant room for improvement, not only in basic grammar and mechanics, but also in clarity and
appropriate diction for the intended audience.
Download Full Article
You must be a member of EMWA in order to download the full article.
EMWA members please log in to download the full article.
If you would like to become a member of EMWA, please join here.
References