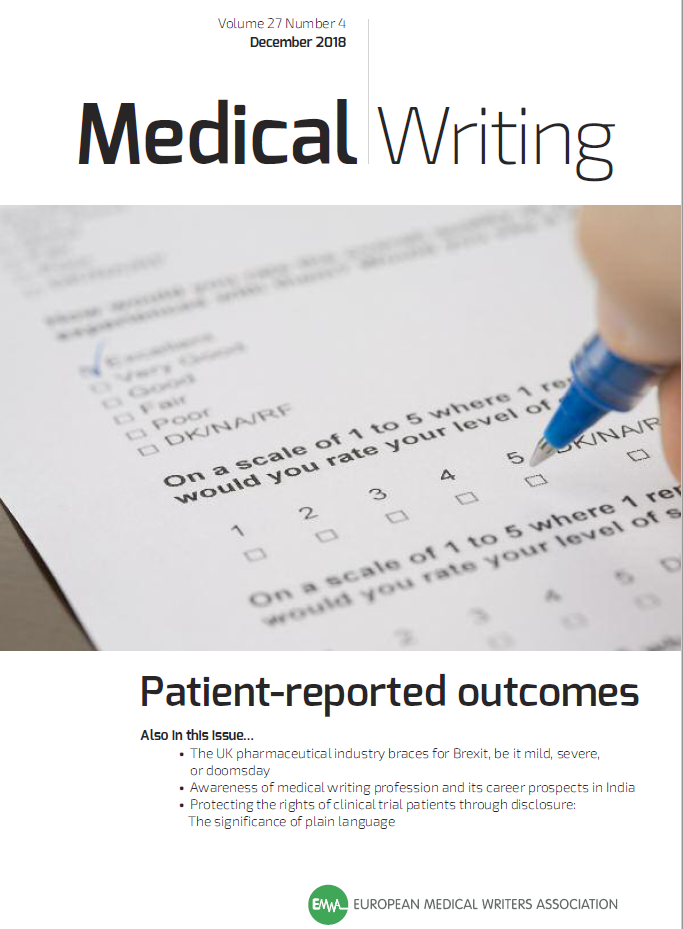 Volume 27, Issue 4 - Patient-reported outcomes
Journal Watch
Abstract
Journal Watch is based on the French-language blog Rédaction Médicale et Scientifique by Hervé Maisonneuve available at www.redactionmedicale.fr.

Download the full article
References
Dechartres A, Atal I, Riveros C, Meerpohl J, Ravaud P. Association between publication characteristics and treatment effect estimates: A meta-epidemiologic study. Ann Intern Med. 2018;169:385–93.
Begum M, Lewison G, Lawler M, Sullivan R. Mapping the European cancer research landscape: An evidence base for national and Pan-European research and funding. Eur J Cancer. 2018;100:75-84.
De Vrieze J. The metawars. Science. 2018;361:1185–8.
Jorgensen L, Gotzsche PC, Jefferson T. The Cochrane HPV vaccine review was incomplete and ignored important evidence of bias. BMJ Evid Based Med. 2018-111012.
Dey P, Ross JS, Ritchie JD, Desai NR, Bhavnani SP, Krumholz HM. Data sharing and cardiology. Platforms and possibilities. J Am Coll Cardiol. 2017;70:3018-25.
Zwierryna M, Davies M, Hingorani AD, Hunter J. Clinical trial design and dissemination: comprehensive analysis of clinicaltrials.gov and PubMed data since 2005. BMJ. 2018;361:k2130.
Goldacre B, DeVito NJ, Heneghan C, Irving F, Bacon S, Fleminger J, Curtis H. Compliance with requirement to report results on the EU Clinical Trials Register: cohort study and web resource. BMJ. 2018;362:k3218.

Visit the EMWA website
Search
Articles
Patient reported outcomes
President's Message
EMWA News
Measuring health outcomes: The foundation of contemporary healthcare decision-making
Measuring quality of life – theoretical background
Quality of life measures – an overview
Publication planning and patient-reported outcomes: Demonstrating value in a multi-stakeholder era
Patient-reported outcome measure translation: An overview
Systematic hospital collection of patient-reported outcome data via patient apps
The PROMIS of electronic patient-reported outcomes
Interview with Professor Matthias Rose on developing patient-reported outcomes and the PROMIS initiative
The UK pharmaceutical industry braces for Brexit, be it mild, severe, or doomsday
Awareness of medical writing as a profession and its career prospects
Estimands – closing the gap between study design and analysis
Protecting the rights of clinical trial patients through disclosure: The significance of plain language
News from the EMA
Regulatory Matters & Regulatory Public Disclosure
Medical Communications
Medical Devices
Journal Watch
In the Bookstores
Good Writing Practice
Getting Your Foot In The Door
My First Medical Writing
Out on Our Own
Member Login
Links
Editoral Board
Editor-in-Chief
Co-Editors
Managing Editor
Victoria White

Associate Editors
Section Editors
Biotechnology
Digital Communication
EMWA News 
Gained in Translation
Getting Your Foot in the Door
Good Writing Practice
In the Bookstores
Manuscript Writing
Medical Communications/Writing for Patients
Medical Devices
My First Medical Writing
News from the EMA
Out on Our Own
Pharmacovigilance
Regulatory Matters
Regulatory Public Disclosure
Teaching Medical Writing
The Crofter: Sustainable Communications
Veterinary Writing
Editors Emeritus
Lay out Designer
Chris Monk