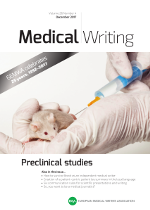 Volume 26, Issue 4 - Preclinical Studies
Getting Your Foot in the Door
Abstract
On internships, scribes, and work experience.

For this edition of GYFD, I would like to provide some background information about internships, including the history of the term and answers to some frequently asked questions about it. The objective is to provide a better overview of internship that goes beyond preconceptions based on White House scandals, college students' nightmares, and reality TV.
Download Full Article
You must be a member of EMWA in order to download the full article.
EMWA members please log in to download the full article.
If you would like to become a member of EMWA, please join here.
References