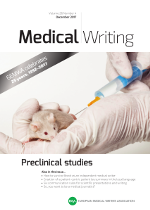 Volume 26, Issue 4 - Preclinical Studies
Reporting of preclinical research: What do we get told – when and how?
Abstract
At present, there are no specific requirements for the reporting of preclinical research, and many studies, particularly those with negative results, never get published. Despite the huge advances in communication opportunities, things have not really changed throughout the history of drug development. Sometimes researchers and scientists are hesitant to release results prematurely and there is a culture not to publish when studies have negative findings. However, routine and reliable reporting of all research – preclinical, clinical, laboratory, animal or human based, and with positive or negative outcomes – is essential to the future of collaborative and successful clinical research. There are several new ideas to promote this, and hopefully in years to come we will see all research results easily accessible and widely used.

Download the full article
References