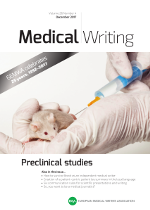 Volume 26, Issue 4 - Preclinical Studies
The reproducibility crisis in preclinical research – lessons to learn from clinical research
Abstract
In recent years, the robustness and reproducibility of preclinical data have been a topic for discussion. Quality standards and good practices are often not well defined for different in vitro methods and in vivo models,
and not harmonised amongst preclinical research laboratories. This results in poorly reliable literature, has a negative impact on the bench-to-bedside time for new drugs, and increases the resources needed for clinical development. Clinical research, on the other hand, is tightly regulated and has high quality standards in place. Although improvements are slowly introduced, preclinical development (especially in its confirmatory phases)
would benefit from taking a closer look and adapting more of the internationally accepted
principles used in clinical research.

Download the full article
References