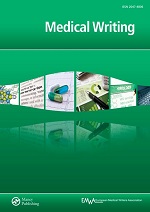 Volume 23, Issue 1 - Software for Medical Writers
Manuscript Writing
Abstract
New medical writers and medical writing students are often unsure how to start writing a manuscript and need help in organizing their thoughts. This is the third in a series of articles that explain how to link the sections and the information within them together, what I call 'manuscript flow'. The first two articles in this series covered the Introduction1 and the Methods.2
Download Full Article
You must be a member of EMWA in order to download the full article.
EMWA members please log in to download the full article.
If you would like to become a member of EMWA, please join here.
References
Leventhal PS. A guideline for manuscript flow. Part 1 – the introduction. Med Writing 2013;22(1):59–60.
Leventhal PS. A guideline for manuscript flow. Part 1 – the methods. Med Writing 2013;22(4):306–8.
Leventhal PS. Guidelines for manuscript writing: here to help. Med Writing 2012;21(2):164–8.
International Committee of Medical Journal Editors. Recommendations for the Conduct, Reporting, Editing, and Publication of Scholarly Work in Medical Journals: Publishing and Editorial Issues Related to Publication in Medical Journals: Preparing a Manuscript for Submission to a Medical Journal. [Accessed 2013 Dec 6]. Available from: http://www.icmje.org/manuscript_a.html
Moher D, Hopewell S, Schulz KF, Montori V, Gøtzsche PC, Devereaux PJ, et al. CONSORT 2010 explanation and elaboration: updated guidelines for reporting parallel group randomised trials. BMJ 2010;340:c869.

Visit the EMWA website
Search
Articles
In this issue of Medical Writing
Message from the President
EMWA social media team
News from the EMA
Taming Microsoft Word®
The secrets of Microsoft Word®. Part I – 'Find and Replace' and en-dashes
Organising the review process in Microsoft Word®
Document templates for medical writers
Getting more out of PowerPoint®
Consolidated data analysis and presentation using an open-source add-in for the Microsoft Excel® spreadsheet software
Datavision™ – What do medical writers need to know?
Software for translators
Graphing software for medical writers
A medical writer's must-have software
Zotero: A free and open-source reference manager
Origin and development of English for Medical Purposes. Part I: Research on written medical discourse
Profile: An interview with Karina Ruth Tabacinic on some fundamental concerns of medical translation
A first-timer's perspective on the 2013 EMWA conference in Barcelona
English Grammar and Style
Regulatory Writing
The Webscout
Medical Communications
In the Bookstores
Manuscript Writing
Out On Our Own
Member Login
Links
Editoral Board
Editor-in-Chief
Co-Editors
Managing Editor
Victoria White

Deputy Managing Editor
Alicia Waltman
Associate Editors
Section Editors
Digital Communication
EMWA News       
Gained in Translation
Getting Your Foot in the Door
Good Writing Practice
Alison McIntosh / Stephen Gilliver
In the Bookstores
Manuscript Writing
Medical Communications/Writing for Patients
Medical Devices
My First Medical Writing
News from the EMA
Out on Our Own
Pharmacovigilance
Regulatory Matters
Regulatory Public Disclosure
Teaching Medical Writing
The Crofter: Sustainable Communications
Jennifer Bell / Louisa Marcombes
Veterinary Writing
Editors Emeritus
Lay out Designer
Chris Monk