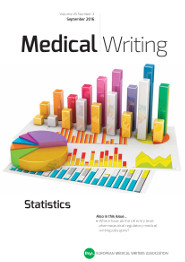 Volume 25, Issue 3 - Statistics
In the Bookstores
Abstract
Essential Statistics for the Pharmaceutical
Sciences (Second Edition)
By Philip Rowe;
John Wiley & Sons, 2016.
ISBN: 978-1-118-91339-0 (paperback).
£42.50. 308 pages.
Download Full Article
You must be a member of EMWA in order to download the full article.
EMWA members please log in to download the full article.
If you would like to become a member of EMWA, please join here.
References
Lang TA, Secic M. How to Report Statistics in Medicine: Annotated Guidelines for Authors, Editors and Reviewers. 2nd ed. Philadelphia: American College of Physicians; 2006.

Visit the EMWA website
Search
Articles
Statistics for medical writers
President's Message
EMWA News
History of biostatistics
The illusion of certainty and the certainty of illusion
Never P alone: The value of estimates and confidence intervals
A medical writer's guide to meta-analysis
Study design made easy
Statistical analyses and methods in the published literature: The SAMPL guidelines
How to interpret and report the results from multivariable analyses
Biostatistics and medical writing: Synergy in preparing clinical trials documents
Best friends forever: A pattern of collaboration between medical writers and biostatisticians within the Russian CRO
Where have all the UK entry level pharmaceutical regulatory medical writing jobs gone?
News from the EMA
Journal Watch
In the Bookstores
The Webscout
Good Writing Practice
Medical Communications
Getting Your Foot in the Door
Lingua Franca and Beyond
Gained in Translation
Teaching Medical Writing
Profile: An interview with Professor Peter Jüni on methodology and statistics in scientific manuscripts
Out On Our Own
Member Login
Links
Editoral Board
Editor-in-Chief
Co-Editors
Managing Editor
Victoria White

Deputy Managing Editor
Alicia Waltman
Associate Editors
Section Editors
Biotechnology
Digital Communication
EMWA News       
Gained in Translation
Getting Your Foot in the Door
Good Writing Practice
Alison McIntosh / Stephen Gilliver
In the Bookstores
Manuscript Writing
Medical Communications/Writing for Patients
Medical Devices
My First Medical Writing
News from the EMA
Out on Our Own
Pharmacovigilance
Regulatory Matters
Regulatory Public Disclosure
Teaching Medical Writing
The Crofter: Sustainable Communications
Jennifer Bell / Louisa Marcombes
Veterinary Writing
Editors Emeritus
Lay out Designer
Chris Monk