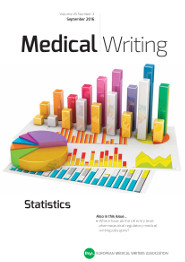 Volume 25, Issue 3 - Statistics
In the Bookstores
Abstract
Essential Statistics for the Pharmaceutical
Sciences (Second Edition)
By Philip Rowe;
John Wiley & Sons, 2016.
ISBN: 978-1-118-91339-0 (paperback).
£42.50. 308 pages.
Download Full Article
You must be a member of EMWA in order to download the full article.
EMWA members please log in to download the full article.
If you would like to become a member of EMWA, please join here.
References
Lang TA, Secic M. How to Report Statistics in Medicine: Annotated Guidelines for Authors, Editors and Reviewers. 2nd ed. Philadelphia: American College of Physicians; 2006.