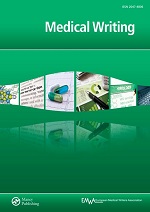 Volume 24, Issue 3 - The Medical Writing Business
Did you know that EMWA has an archive of webinar material on our website?
Since January 2015, EMWA has held a number of webinars on different topics. The most recent EMWA webinar was presented by Helen Baldwin on 25 June 2015 and was entitled 'What you always wanted to know about medical writing - but never dared to ask'. This webinar was aimed at new medical writers who had questions about establishing or advancing their careers.