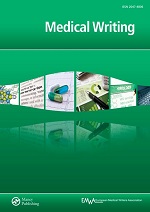 Volume 24, Issue 3 - The Medical Writing Business
European Science Editing: May 2015 picks
Abstract
In the ironically titled 'The increasing pseudodignification of medical prose', retired consultant Neville W. Goodman bemoans the failure of medical writers (by which he means people who write scientific papers) to use simple words.1 Goodman explores trends in word usage from 1930 to 2010 using PubMed as a source of data on scientific writing and Google's Ngram Viewer (English Fiction corpus) for general writing. He finds that for many pairs of words comprising an approved (simple) and disapproved alternative (e.g. given and administered) the approved word is more likely to be chosen by writers of fiction than by writers of scientific papers. He presents evidence that this is an old problem, but one that is getting worse. He highlights the rise of the disfavoured word novel (prefer new), which appeared in no less than 8.5% of abstracts in 2014. All this in spite of concerted efforts to encourage the adoption of plain English (as explored in the March 2015 issue of Medical Writing). Goodman is downbeat about the outlook for scientific English but offers no solutions to the problems afflicting it.
Download Full Article
You must be a member of EMWA in order to download the full article.
EMWA members please log in to download the full article.
If you would like to become a member of EMWA, please join here.
References
Goodman NW. The increasing pseudodignification of medical prose. Eur Sci Editing. 2015;41(2):31–5.
Wheatley D. Out with the old, in with the new – words and phrases in fashion. Eur Sci Editing. 2015;41(2):43–4.
Marušić M. The importance of legal regulation for scientific journals. Eur Sci Editing. 2015;41(2):36–8.
Allen L. Connecting researchers and research – investing in infrastructure to bring efficiencies to research. ORCID as an enabler of better research analytics. Eur Sci Editing. 2015;41(2):38–9.
Maina S. Coursera: when learning never ends. Eur Sci Editing. 2015;41(2):49.

Visit the EMWA website
Search
Articles
In this issue… The Medical Writing Business
President's Message
Setting up and running a medical writing company
For the greater good…Can agency competitors cooperate to advance medical publication practices?
The Section of Scientific Publications at the Texas Heart Institute
Is cheap outsourcing a threat to your career?
Successfully outsourcing medical writing
Freelancing – Are you ready to go solo?
News from the EMA
European Science Editing: May 2015 picks
Profile: An interview with Dawn Bentley: How personal branding can advance your professional career!
The Webscout
In the Bookstores
Regulatory Writing: New developments in public disclosure of clinical trials
Lingua Franca and Beyond
Gained in Translation
HIV research fraudster handed stiff prison sentence
English Grammar and Style: Good Writing Practice
Did you know that EMWA has an archive of webinar material on our website?
Medical Communications
Out On Our Own
Member Login
Links
Editoral Board
Editor-in-Chief
Co-Editors
Managing Editor
Victoria White

Deputy Managing Editor
Alicia Waltman
Associate Editors
Section Editors
Biotechnology
Digital Communication
EMWA News       
Gained in Translation
Getting Your Foot in the Door
Good Writing Practice
Alison McIntosh / Stephen Gilliver
In the Bookstores
Manuscript Writing
Medical Communications/Writing for Patients
Medical Devices
My First Medical Writing
News from the EMA
Out on Our Own
Pharmacovigilance
Regulatory Matters
Regulatory Public Disclosure
Teaching Medical Writing
The Crofter: Sustainable Communications
Veterinary Writing
Editors Emeritus
Lay out Designer
Chris Monk