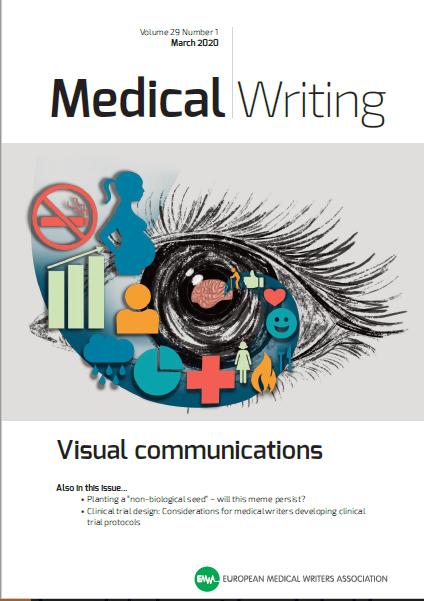 Volume 29, Issue 1 - Visual Communications
Journal Watch
Abstract
Journal Watch is based on the French language blog, Rédaction Médicale et Scientifique, by Hervé Maisonneuve, available at www.redactionmedicale.fr.
Download Full Article
You must be a member of EMWA in order to download the full article.
EMWA members please log in to download the full article.
If you would like to become a member of EMWA, please join here.
References
Grudniewicz A, Moher D, Cobey KD, Bryson GL, Cukier S, Allen K, et al. Predatory journals: no definition, no defence. Nature. 2019;576:210–2.
Manca A, Moher D, Cugusi L, Dvir Z, Deriu F. How predatory journals leak into PubMed. CMAJ. 2018;190:E1042–5
Thomas EG, Jayabalasingham B, Collins T, Geertzen J, Bui C, Dominici F. Gender disparities in invited commentary authorship in 2459 medical journals. JAMA Netw Open. 2019;2(10):e1913682.
Loder E, Burch R. Underrepresentation of women among authors of invited commentaries in medical journals – where are the female editorialists? JAMA Netw Open. 2019;2(10):e1913665.
Dworkin JD, Linn KA, Teich EG, Zurn P, Shinohara RT, Bassett DS. The extent and drivers of gender imbalance in neuroscience reference lists. bioRxiv Available from: http://dx.doi.org/ 10.1101/2020.01.03.894378
Lerchenmueller MJ, Sorenson O, Jena AB. Gender differences in how scientists present the importance of their research. BMJ 2019;367:l6573.
Jagsi R, Silver JK. Gender differences in research reporting. BMJ. 2019;367:l6692.
The Editors of the Lancet Group. The Lancet Group's commitments to gender equity and diversity. Lancet. 2019;394:452–3.

Visit the EMWA website
Search
Articles
Editorial
EMWA News
President's Message
Medical illustration in the 21st century and beyond
Visualisations in science communication: Friend or foe?
How and why it works: The principles and history behind visual communication
Get your (visual) act together: Optimising the design of labels and arrows in medical illustrations
A picture is worth a thousand words
The evolution of the scientific poster: From eye-sore to eye-catcher
Leveraging infographics in study schemas
Enhancing accessibility of study data: The development of a graphical abstract for lay summaries of clinical trial results
Connecting medical writers in Portugal through visual communication
Clinical trial design: Considerations for medical writers developing clinical trial protocols
Planting a "non-biological" seed – will this meme persist?
Regulatory Matters
News from the EMA
Journal Watch
Getting Your Foot in the Door
Veterinary Medical Writing
Good Writing Practice
Medical Writing Humour
Out on our Own
Member Login
Links
Editoral Board
Editor-in-Chief
Co-Editors
Managing Editor
Victoria White

Deputy Managing Editor
Alicia Waltman
Associate Editors
Section Editors
Digital Communication
EMWA News       
Gained in Translation
Getting Your Foot in the Door
Good Writing Practice
Alison McIntosh / Stephen Gilliver
In the Bookstores
Manuscript Writing
Medical Communications/Writing for Patients
Medical Devices
My First Medical Writing
News from the EMA
Out on Our Own
Pharmacovigilance
Regulatory Matters
Regulatory Public Disclosure
Teaching Medical Writing
The Crofter: Sustainable Communications
Jennifer Bell / Louisa Marcombes
Veterinary Writing
Editors Emeritus
Lay out Designer
Chris Monk