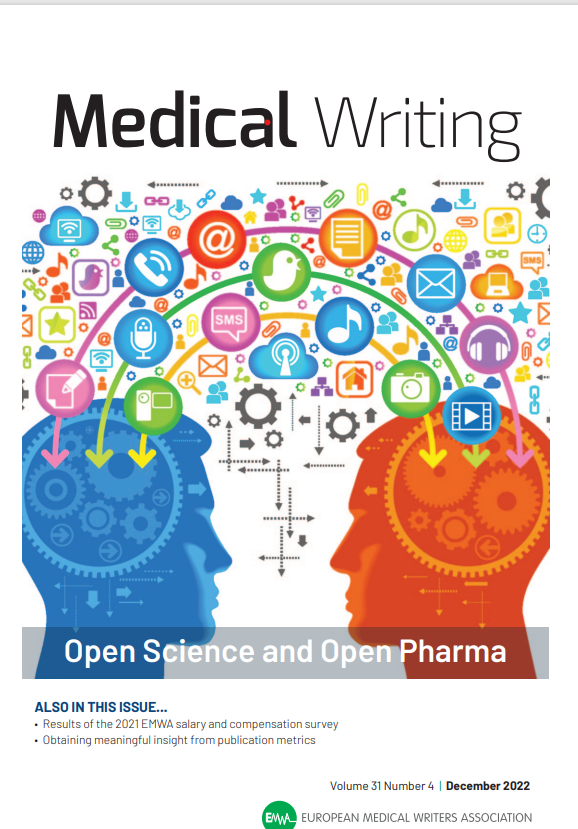 Volume 31, Issue 4 - Open Science and Open Pharma
President's Message
Abstract

Download the full article

Visit the EMWA website
Search
Articles
Open Science and Open Pharma
From the Editor
President's Message
Abstracts from the EMWA Spring Conference Poster Session
EMWA News
Can access and accessibility rebuild public trust in research?
Science for all: Is it all about the publication of data, or beyond?
Landscaping the terminology of accessible language document types
Enabling people with disabilities: Creating accessible electronic documents
How FAIR are pharma publication data?
Wait! What? There's stuff missing from the scholarly record?
Obtaining meaningful insights from publication metrics
Results of the 2021 EMWA salary and compensation survey
News from the EMA
Digital Communication - Open science in the digital age
The Crofter: Sustainable Communications
Biotechnology
Good Writing Practice
Getting Your Foot in the Door
Out On Our Own
Member Login
Links
Editoral Board
Editor-in-Chief
Co-Editors
Managing Editor
Victoria White

Associate Editors
Section Editors
Biotechnology
Digital Communication
EMWA News 
Gained in Translation
Getting Your Foot in the Door
Good Writing Practice
In the Bookstores
Manuscript Writing
Medical Communications/Writing for Patients
Medical Devices
My First Medical Writing
News from the EMA
Out on Our Own
Pharmacovigilance
Regulatory Matters
Regulatory Public Disclosure
Teaching Medical Writing
The Crofter: Sustainable Communications
Veterinary Writing
Editors Emeritus
Lay out Designer
Chris Monk