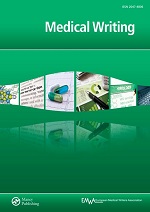 Volume 24, Issue 2 - Risk Management
News from the EMA
Abstract

The articles included in this section are a selection from the EMA's news and press release archive for December – February 2015. More information on the work of the EMA can be found on its website: http://www.ema.europa.eu.

Visit the EMWA website
Search
Articles
Risk Management
President's Message
The changing face of (benefit-)risk management
Pharmacovigilance medical writing: An evolving profession
A shot at demystifying the risk management plan for medical writers
Using social media as the patient's voice in the benefit-risk assessment of drugs: Are we ready?
Special section: Winners of the Geoff Hall Scholarship essay competition
News from the EMA
Profile: An interview with Ingrid Edsman on why attending EMWA conferences is so rewarding!
The Webscout
In the Bookstores
Regulatory Writing: Review process in regulatory writing
Lingua Franca and Beyond
Gained in Translation
Manuscript Writing
English Grammar and Style: Revising medical writing Reasons not rules: Backtracking, pronoun-induced Part 3 - Double syntactic unit revision and syntactic position revision
Out On Our Own
Member Login
Links
Editoral Board
Editor-in-Chief
Co-Editors
Managing Editor
Victoria White

Deputy Managing Editor
Alicia Waltman
Associate Editors
Section Editors
Digital Communication
EMWA News       
Gained in Translation
Getting Your Foot in the Door
Good Writing Practice
Alison McIntosh / Stephen Gilliver
In the Bookstores
Manuscript Writing
Medical Communications/Writing for Patients
Medical Devices
My First Medical Writing
News from the EMA
Out on Our Own
Pharmacovigilance
Regulatory Matters
Regulatory Public Disclosure
Teaching Medical Writing
The Crofter: Sustainable Communications
Jennifer Bell / Louisa Marcombes
Veterinary Writing
Editors Emeritus
Lay out Designer
Chris Monk