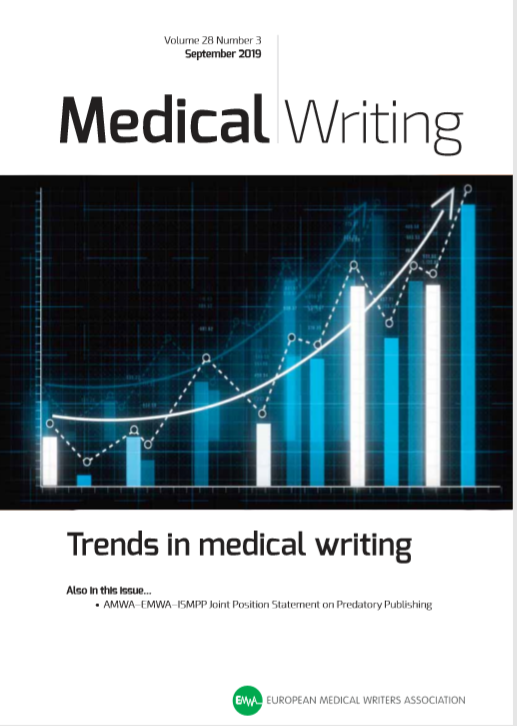 Volume 28, Issue 3 - Trends in medical writing
Journal Watch
Abstract
A proposal to define a new category of bad practice – The non-publication of clinical trial results
Download Full Article
You must be a member of EMWA in order to download the full article.
EMWA members please log in to download the full article.
If you would like to become a member of EMWA, please join here.
References
Tatsioni A, Karassa FB, Goodman SN, Zarin DA, Fanelli D, Ioannidis JP. Lost evidence from registered large long-unpublished randomized controlled trials: a survey. Ann Intern Med. 2019 May;171(4):300.
Wallach JD, Krumholz HM. Not reporting results of a clinical trial is academic misconduct. Ann Intern Med. 2019 May;171(4):293.
Johnson R, Watkinson A, Mabe M. The STM report. An overview of scientific and scholarly publishing. International Association of Scientific, Technical and Medical Publishers. Fifth Edition, October 2018.
Heneberg P. The troubles of high-profile open access megajournals. Scientometrics. 2019;120(2):733–6.

Visit the EMWA website
Search
Articles
Introduction
President's Message
EMWA News
Omics in silico and other trends in biomedical research: Impact on how and what we write
Catching the wave of lifestyle medicine
Artificial intelligence – will we be replaced by robots?
Now more than ever, scientists must speak up for science
When less is more: Medical writers as guardians of curated content
Predatory publishing – what medical communicators need to know
AMWA – EMWA – ISMPP Joint Position Statement on Predatory Publishing
How to combat medical misinformation with a sound content strategy
Subcontracting: Not for the faint of heart
Lay summaries and writing for patients: Where are we now and where are we going?
Clinical trial disclosure: Perspective from a medical writer for a contract research organisation
The 360° approach to authoring risk management plans
Trends in regulatory writing: A brief overview for aspiring medical writers
The medical writing landscape in China
News from the EMA
Regulatory Matters
Medical Communications and Writing for Patients
In the Bookstores
Getting Your Foot in the Door
Veterinary Medical Writing
Medical Devices
My First Medical Writing
Journal Watch
Good Writing Practice
Regulatory Public Disclosure
Out on Our Own
Member Login
Links
Editoral Board
Editor-in-Chief
Co-Editors
Managing Editor
Victoria White

Deputy Managing Editor
Alicia Waltman
Associate Editors
Section Editors
Biotechnology
Digital Communication
EMWA News       
Gained in Translation
Getting Your Foot in the Door
Good Writing Practice
Alison McIntosh / Stephen Gilliver
In the Bookstores
Manuscript Writing
Medical Communications/Writing for Patients
Medical Devices
My First Medical Writing
News from the EMA
Out on Our Own
Pharmacovigilance
Regulatory Matters
Regulatory Public Disclosure
Teaching Medical Writing
The Crofter: Sustainable Communications
Jennifer Bell / Louisa Marcombes
Veterinary Writing
Editors Emeritus
Lay out Designer
Chris Monk