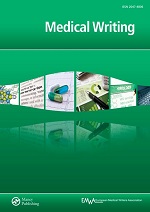 Volume 21, Issue 3 - Writing Matters
Regulatory writing
Abstract
The EMA, the FDA, and Health Canada head to head
A recent issue of the New England Journal of Medicine carried an article comparing the regulatory review times of novel therapeutics by three different regulatory agencies (FDA, EMA, and Health Canada).
In a previous column, I talked about the importance of review cycles, and also about how inefficient they can be. In particular, the column talked about how some reviewers inappropriately focus on certain details while failing to address high-level failings. Another essential aspect of a successful review cycle is of course the resolution of comments.
Greg Morley
Freelance and Contract Medical Writer, Spain
Download Full Article
You must be a member of EMWA in order to download the full article.
EMWA members please log in to download the full article.
If you would like to become a member of EMWA, please join here.
References
Downing NS, Aminawung A, Shah ND, et al. Regulatory review of novel therapeutics – comparison of three regulatory agencies. N Engl J Med 2012 May 16. [Epub ahead of print] PMID: 22591257.

Visit the EMWA website
Search
Articles
Writing Matters
Message from the President
EMWA news
Getting what you want from your scientific writing: tips for writing clearly
What's your problem? A practical approach to scientific document design
The joys of outlining in medical writing
Pleasing the reader by pleasing the eye—Part 1 The role of format and design in readability
Writing visually for medical writers
Quality control: getting the best out of your review
Pharmaceutical medical writing competencies: Comparing self-perception with employers' expectations
In the Bookstores
Journal Watch
The Webscout
Manuscript Writing
Regulatory writing
English Grammar and Style
Out On Our Own
Gained in Translation
Member Login
Links
Editoral Board
Editor-in-Chief
Co-Editors
Managing Editor
Victoria White

Deputy Managing Editor
Alicia Waltman
Associate Editors
Section Editors
Digital Communication
EMWA News       
Gained in Translation
Getting Your Foot in the Door
Good Writing Practice
Alison McIntosh / Stephen Gilliver
In the Bookstores
Manuscript Writing
Medical Communications/Writing for Patients
Medical Devices
My First Medical Writing
News from the EMA
Out on Our Own
Pharmacovigilance
Regulatory Matters
Regulatory Public Disclosure
Teaching Medical Writing
The Crofter: Sustainable Communications
Jennifer Bell / Louisa Marcombes
Veterinary Writing
Editors Emeritus
Lay out Designer
Chris Monk