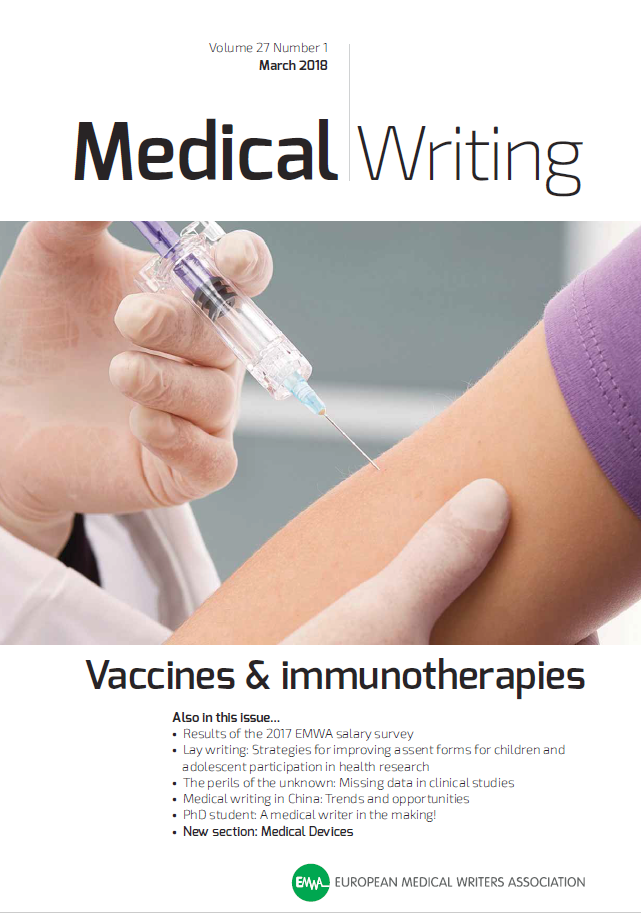 Volume 27, Issue 1 - Vaccines and Immunotherapies
Lingua Franca and Beyond
Abstract
"What is written without effort is, in general, read without pleasure".
Download Full Article
You must be a member of EMWA in order to download the full article.
EMWA members please log in to download the full article.
If you would like to become a member of EMWA, please join here.
References
Crick F. The astonishing hypothesis: the scientific search for the soul. Touchstone, USA; 1995. ISBN: 0684801582.
World Health Organization. Communicating science-based messages on vaccines. B World Health Organ. 2017;95:670–1. doi: 10.2471/BLT.17.021017.
Baron N. Escape from the ivory tower: a guide to making your science matter. Island Press; 2010. ISBN: 9781597269650.
Kahan D. A risky science communication environment for vaccines. Science. 2013;342(6154):53–4. doi: 10.1126/science.1245724.

Visit the EMWA website
Search
Articles
Vaccines and immunotherapies
President's Column
A history of EMWA
EMWA News
An introduction to vaccines and immunotherapies
Immuno-oncology: Harnessing our immune system to fight cancer
Changing methods to assess targeted therapies in oncology
HIV vaccine clinical trials: An overview
Allergen immunotherapy in the European regulatory environment
Pharmacovigilance for vaccines and immunotherapies
Addressing vaccine hesitancy in writing
Results of the 2017 EMWA salary survey
Lay writing: Strategies for improving assent forms
The perils of the unknown: Missing data in clinical studies
Medical writing in China: Trends and opportunities
PhD student: A medical writer in the making!
News from the EMA
Medical Communications
Journal Watch
In the Bookstores
The Webscout
Teaching Medical Writing
Good Writing Practice
Medical Devices
Getting Your Foot in the Door
Entering medical communications as a non-native English speaker
Out on Our Own
Lingua Franca and Beyond
Member Login
Links
Editoral Board
Editor-in-Chief
Co-Editors
Managing Editor
Victoria White

Deputy Managing Editor
Alicia Waltman
Associate Editors
Section Editors
Digital Communication
EMWA News       
Gained in Translation
Getting Your Foot in the Door
Good Writing Practice
Alison McIntosh / Stephen Gilliver
In the Bookstores
Manuscript Writing
Medical Communications/Writing for Patients
Medical Devices
My First Medical Writing
News from the EMA
Out on Our Own
Pharmacovigilance
Regulatory Matters
Regulatory Public Disclosure
Teaching Medical Writing
The Crofter: Sustainable Communications
Jennifer Bell / Louisa Marcombes
Veterinary Writing
Editors Emeritus
Lay out Designer
Chris Monk