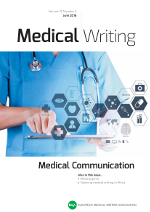 Volume 25, Issue 2 - Medical Communication
Medical communication writers: Who are they and what do they do?
Author:
For many EMWA members, the meaning of medical communications is a bit hazy. In this issue, we have invited various medical communications specialists to explain who they are and what they do. Their articles will illustrate a few of the varied angles of this somewhat heterogeneous specialty.