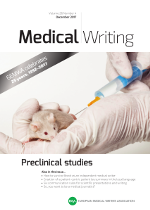 Volume 26, Issue 4 - Preclinical Studies
In the Bookstores
Abstract
Publishing Your Medical Research (Second Edition)
Daniel W. Byrne
Wolters Kluwer, 2017

Daniel Byrne has taught courses on biostatistics and medical writing at Vanderbilt University since 1999. He wrote the first edition of Publishing Your Medical Research in 1998 to provide clinicians with practical information and advice on how to
write a publishable paper. The second edition has the same general aims and consists of 34 chapters divided into five main sections: Planning, Observing, Writing, Editing, and Revising.