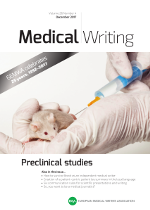 Volume 26, Issue 4 - Preclinical Studies
President's Message
Abstract
Dear EMWA Members,

The time has been passing so quickly, with 2017 coming to an end and the holiday season now upon us.

I am sure we all have enjoyable memories of our very successful conference in beautiful Cascais. Since my last message, the Executive Commit tee has been quite busy planning our annual Spring Conference in Barcelona, May 1–
5, 2018. Speakers are currently being lined up for the symposium on medical devices and we have now organised four Expert Seminar Sessions covering both regulatory and medical communications topics.

Download the full article