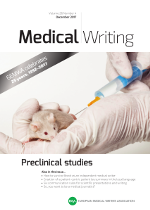 Volume 26, Issue 4 - Preclinical Studies
Preclinical studies
Abstract
Welcome to this special issue about nonclinical and preclinical research. Nonclinical and preclinical research is the first step toward new drug development, where scientists investigate mechanism of action, pharmacokinetics, and safety. Many medical writers spend their careers in the regulated world of registered clinical trials, where there are well-defined rules, endpoints, and guidelines for writing documents. To these writers, reporting the countless methods, standards, and models used in nonclinical  and preclinical studies may seem complex and daunting. A writer may have
to learn methodological details of X-ray crystallography, drug interaction models, genetically modified species, and cell culture. Experiments in a single manuscript may involve multiple animal models, in species that may vary from apes to mice to woodchucks to zebrafish. Guidelines for reporting these methods and models may be hard to find or nonexistent, and many journals offer only sparse reporting instructions. In other words, to a medical writer accustomed to clinical trials, reporting nonclinical and preclinical research may at first seem like the Wild West.

Download the full article

Visit the EMWA website
Search
Articles
Preclinical studies
President's Message
EMWA celebrates 25 years
EMWA News
Preclinical research in drug development
An introduction to little-known aspects of nonclinical regulatory writing
Reporting of preclinical research: What do we get told – when and how?
Mind the gap – towards complete and transparent reporting of animal research
The reproducibility crisis in preclinical research – lessons to learn from clinical research
Nonclinical studies in the Russian Federation — Problems, regulatory norms, and harmonisation with international standards
How to survive Brexit as an independent medical writer
Creation of a patient-centric patient lay summary in the local language
Six communication rules for scientific presentations and writing
So, you want to be a medical journalist?
News from the EMA
Profile: An interview with Steven Walker
Getting Your Foot in the Door
In the Bookstores
Journal Watch
The Webscout
Good Writing Practice
Medical Communications
Out on Our Own
Member Login
Links
Editoral Board
Editor-in-Chief
Co-Editors
Managing Editor
Victoria White

Associate Editors
Section Editors
Digital Communication
EMWA News 
Gained in Translation
Getting Your Foot in the Door
Good Writing Practice
In the Bookstores
Manuscript Writing
Medical Communications/Writing for Patients
Medical Devices
My First Medical Writing
News from the EMA
Out on Our Own
Pharmacovigilance
Regulatory Matters
Regulatory Public Disclosure
Teaching Medical Writing
The Crofter: Sustainable Communications
Veterinary Writing
Editors Emeritus
Lay out Designer
Chris Monk