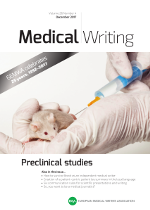 Volume 26, Issue 4 - Preclinical Studies
So, you want to be a medical journalist?
Abstract
What are the differences between medical journalism and medical writing? To find out, the authors reviewed several health-related publications and online resources, and interviewed two senior medical journalists. We learned that medical journalism demands an investigative nature, the ability to critically evaluate evidence, and the ability to rapidly produce engaging pieces of wide interest. It is a stimulating, sometimes fast-moving world, although often not well-paid. Print media is becoming less common, and most journalistic pieces are now published online or through social media. For those interested in a new
career, excellent writing skills and an ability to learn quickly are probably more important attributes than journalistic qualifications. Would-be medical journalists should keep in mind that with this power to influence comes responsibility.

Download the full article
References